Drive Vicariously

The Trilogy is Completed - On Sale January 1, 1999
Shot in Digital Video(well, maybe 90% of it)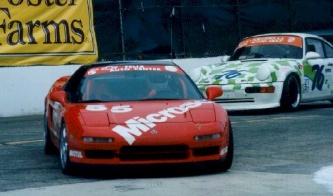 Racing on the Streets of Los Angeles - Photo by Bruce B. Miller 323-737-3227

Do NOT buy this videotape. It could ruin your life. If you buy this tape, and you end up putting a rollcage, Brembo brakes, and a supercharger in your car so you can experience the same adrenaline rush, don't come crying to me. You have been warned. I personally think the LA Street Race footage is easily the best footage out of the "Trilogy" of the NSX-Files videos.
Hey, if George Lucas can create a movie series based on a "Trilogy", so can I. Not only that, I can produce it for about $100 million dollars less, using state of the art(at least at the consumer level) non-linear video editing software on my Pentium 400. And I can advertise it for free using www.nsxfiles.com, instead of spending gazzillions like Lucas. Actors with big contracts? Screw 'em, my actors work for free! Big salaries for talented art directors to produce the full color video tape covers and labels? No need for artsy fartsy people, I can con my wife into doing that using Microsoft Word and a $279 Epson color printer, and in return all I have to do is clean out the Cleo the Cat's litter box until hell freezes over! Okay, so what does this video cost? $20 bucks to cover my costs to produce it. It is a non-profit video. Yeah....I know....unfortunately it is the same price as the "Star Wars" video tape at your local store. But you get something from NSX-Files Volume III that you can't get from any George Lucas film: You Get Real Life Stuff! In case you didn't know, George's films are all fake. He's a faker. He makes phony, fictional, fairy tales. You might as well be watching shit about Santa Claus or the Easter Bunny. George has Luke Skywalker vs. the Imperial Troopers? That ain't nothing! Try going against 500+ HP Porsche 911 Turbos, a 550+ HP Viper, and a 600+ HP Porsche 928 in the Los Angeles Street Race! Hans Solo dodging meteorites in the Millenium Falcon? Boring....! Try going 108+ mph on a narrow, two lane, winding mountain road with 300 foot+ drops and no guard rails. My stuff is REAL, it actually happened. George's stuff is all fluffy, computer-generated, sugarcoated stories aimed at kiddies and people who live in some Star Trek fantasy world where they can swing their big light saber.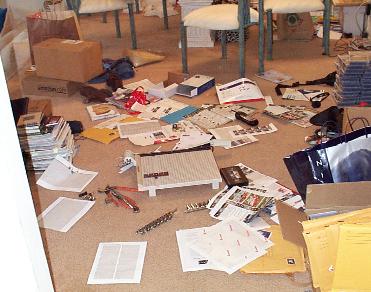 It ain't easy making these tapes. Here I trash the dining area.
Anyways, there are no spectacular spins on this video tape like Volume I(which had a bunch) or Volume II(which had a couple). Fortunately for me and the car, I now drive a little smoother and I don't go shooting off the track like an idiot, endangering myself and other drivers on the track. Volume III is about what happens when you go off on the deep end and decide that you gotta get your NSX Supercharged so you can compete (or try to compete) in wheel-to-wheel racing. My friends Jeff and Doug have been telling me and Wayne for a couple years that we gotta do wheel-to-wheel racing, as it is so much more fun and exciting than Time Trial events or "lapping days". And Wayne and I found out that they were totally correct on this! We are talking about BIG TIME adrenaline rush.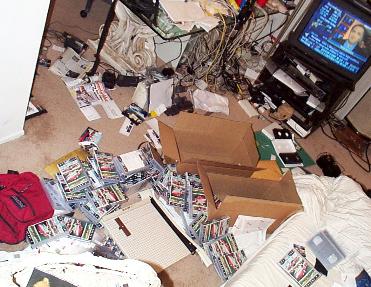 Here I trash the TV viewing area. Note the custom wiring for computers.
Okay, so what ya get for $20 is the following:
18 minutes of the June 1997 Virginia City Hill Climb. I get my ass kicked
14 minutes of the June 1998 Virginia City Hill Climb. With the Comptech Supercharger, the results are quite a bit different
10 minutes of the May 1998 NSXPO Mid Ohio Track Event. Great Race Track, and the Realtime cars are buzzing around
8 minutes of the July 1998 PRO Racing Enduro. See Doug and Wayne's first wheel-to-wheel race
5 minutes from the July 1998 Touring Car Club Spring Race. Another wheel-to-wheel race
14 minutes from the December 1998 Touring Car Club wheel-to-wheel race.
40 minutes from the August 1998 Downtown LA Motors/PRO Racing Street Race. Doug and Wayne race wheel-to-wheel around the the streets of Los Angeles against cars with 500-650 HP. Life will never be the same after you see this.......
Additional scenes that are.....well....different? Weird? Eclectic? Quirky? Dorky? I can't explain them. Ya gotta seem them for yourself......
Video tape with actual color labels. When was the last time you saw color labels on a video tape you bought?
Video tape with full color cover.
Liner notes. 110 pages(black and white copies) of what you are seeing on the video tape. True, most of the liner notes are merely printouts of this website, but now you got something to read while you are sitting on the can. Does George give you that?? No, he doesn't care what you read in the can, but I do!
Bonus Feature of Volume III. Let's say your significant other has a bunch of boring people over your house talking about "chick movies" or "furniture shopping" or "Oprah", and you just want some peace and quiet so you can relax. Put this video tape in your VCR and hit the play button, and in five minutes you will clear the entire room of 95% of all the women, and all of the boring guys who don't drive over 55 mph on the highway with excuses like, "Ooops, I think I left a casserole on the stove, gotta run, sorry I can't watch the video". You will be left by yourself, unless these are some car geeks in the room that can also appreciate why polluting the air by burning precious fossil fuels at 8000 RPMS is the ONLY WAY to live.
$20 includes shipping and handling, shipped in full bubble wrap 10'x12' envelope with full color labels, using US Postal Service PRIORITY Mail. (that's a $3 stamp! Note: Earlier I incorrectly wrote Express Mail, which is 10 bucks. Thanks to Ken S. for spotting the error!).
Don't forget, the Pamela Lee Tape is $30+$5 shipping, Jerry Springer's video tape is $24+$5 shipping. They rip you off on the shipping charges, I don't.
So in other words, I "bundle" all the stuff above in the $20 price. I refuse to "unbundle" any of the stuff above, so whether or not you use everything above, it is still $20. If the DOJ doesn't like the fact that I bundle everything together in my product, they can kiss my ass, 'cause consumers want an integrated product. I don't care if I have a quasi-monopoly on NSX-Video tapes(you don't see anyone else selling "NSX Only"), and I also don't care that I have created a high barrier to entry for NSX-Video tapes due to all the "bundling" of the above stuff.
This video was created to help promote interest in Motorsports and create a high demand for the Acura NSX. I figure if more people get interested in Motorsports, then perhaps the cost of go-fast parts will come down as the go-fast vendors can amortize their R&D costs over more units. If I can help to create a high demand for the NSX, perhaps Acura will continue to rev this great sportscar, and hopefully throw a V-10 (or at least a V-8) into the next generation NSX. Maybe Acura will even "comp" me a new NSX…….after all, I think I have done as much work to promote the NSX as just about anyone else that has purchased the car. After all, who else has beaten the crap out of their car for 130,000 miles, runs the car at 70+ track events, 5 hill climbs, 3 enduros, 2 autocrosses, etc? Who else has spun out their car at 100+ mph multiple times trying to learn the secrets of going fast? Who else makes a video tape for fun about their car and sells it to the general public for cost? Who else puts all this stuff up on a website with 70,000 + hits to the home page? And who else drives their NSX around the street with all these ridiculous looking decals every day? Just the other day(January 6th) my mechanic said some dude read about the NSX from my website, and then went down to his dealership from Northern California, and bought TWO NSXes. A total of three people at my old place of employment bought NSXs. I also convinced Wayne to by an NSX. I ain't holding my breath about getting a free car.........but I would like to thank Honda/Acura for building a great exotic sportscar like the NSX.
Yes, there is a money back guarantee if for some odd reason you don't enjoy the tape, all you have to do is pay for postage and send the tape back to me. So far, no one has ever demanded a refund back from either Volume I or Volume II, so it is safe to assume that people for some odd reason actually like these video tapes. Especially if you are a car geek.
Customer Testimonials from people who have seen previews of the tape:
"I saw the preview of Volume III, and promptly ordered $20,000 in go-fast parts. Don't watch this video!" - B. Batla
"Watch this video! It will help put my children through college- B. Leonti, Comptech Sales Rep
"My life is totally ruined. I now think more about wheel-to-wheel racing that I do about women or my business." - W. Mello
"This is getting totally out of control….I just wish he would get a job"- His Wife
"This one is gonna be hard to top. It lets you smell the racing fuel, hear the supercharger whine, feel the G-forces, and see the drama unfold time and time again"- Owner, Pulp Racing
If you would like a copy, go to the Pulp Store and for secure online credit card processing or you can send a check for $20 bucks made out to Pulp Racing to the address below. (NOTE: Price increase over what Volume I and II are, due to increased production costs. Like your reading material for the can. It is almost like getting a video tape AND a book for $20. Does George do that for you? NO! Does IEG do that with the Pamela Lee tape? NO! Does Springer do that for you with his "Too Hot for TV video tape? NO!).
Right now, I have the liner notes copied, the color cover done, the labels finished, and the copies will be ready from the duplicator on January 5th. Order yours now before they run out!
Note: This is NOT a "how to race" tape. It is more like a "How to have a Hell of a Lot of Fun With your Car" tape.
Doug Hayashi
The NSX-Files Volume III
315 19th Street
Huntington Beach, CA 92648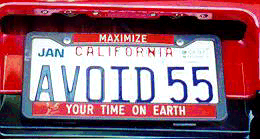 Live every moment like it is your last day on earth!

Update February 4th, 1998
I have sent out a "Reader's Survey Card" postcard with every video that I send out. (Does Disney do that with The Lion King? I think not!). So far, 14 people have sent them back with comments. Since I send out the postcard with a stamp already on it, you would think that more of you would send in your comments! Anyways, one of the questions is "Rate this video on a scale of 1 to 10, with 1 meaning "It Sucks" and 10 meaning "It's awesome". So far the ratings on it average 9.3455, so it seems like people enjoy the video. (Note: the reason for the weird rounding is that one guy gave a rating of 9.837. Obviously, he didn't read the instructions that say, "Circle a number between 1 and 10. <grin>)

Also, I have a question that says, "What did you like best about the video? Any miscellaneous comments?"
Here's are some of the more memorable comments that have been sent back via the reader survey cards:
"Watched it about ten times in the week I first got it! Love the Supercharger whine!"

"I liked seeing you beat a bunch of 600 HP Porsches, Vipers, and other stupid cars. The Oscar-caliber performances in the infomercial and "Right Stuff" were cool too".

"Great video - kind of like Die Hard meets Days of Thunder"

"Damn awesome video!!! It's more hilarious than 'Dumb and Dumber', Doug being dumb, but Wayne being the dumbest! Keep up the good work!"

I am not sure if that last comment was meant to be a compliment or not.....

Keep those cards rolling in..........I figure I am getting about a 10% return on the cards, which ain't bad for your average marketing survey, but DAMMIT, this is The NSX-Files Reader's Survey Card Marketing Feedback Report, send the stupid cards in to me so I can at least get to 50% feedback!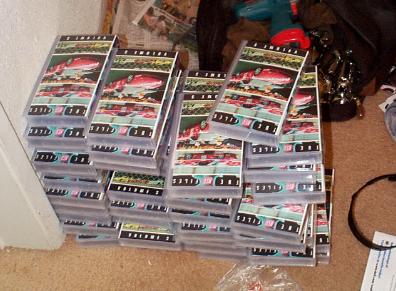 The Finished Product. Get yours while they last!