December 18, 2002
"The Go-Fast Crack Pipe"
NSX-Files Volume IV on DVD is Released
NOW SHIPPING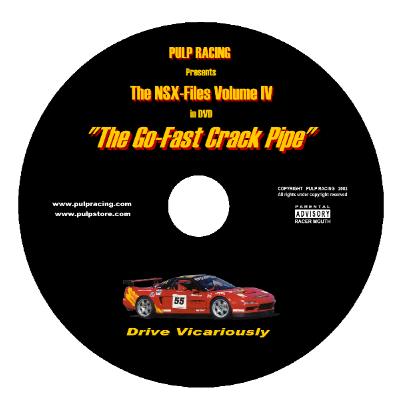 Glass Master approved for duplication on December 16, 2002
Order it at the Pulp Store
It's been four years since NSX-Files Volume III was released. I almost had it finished a couple of years ago, but then I got stuck doing a bunch of other stuff. In November 2002, I decided to sit down and finish the edits for Volume IV. It took a lot longer, and a lot more effort than I thought it would take. I was hoping that all I would have to do is buy a Pioneer A04 DVD burner, and then I would be done. Instead, I got sucked into the DVD editing/creation rathole, throwing money and another 100 hours of labor into the project.
I started editing using my old Canopus DVREX editing hardware and software. But it doesn't allow you to to convert AVI files to MPEG files. So then I went out and bought Pinnacle Studio 8. But then doing the AVI to MPEG compression was taking somewhere around 10-15 hours to convert a one hour AVI file. Not good, as I figured I would have to burn at least 10-20 different test copies of the DVD before I would be happy with it the editing and formatting. That equates to anywhere from 100-300 hours of MPEG encoding. Not the most efficient use of time. So then I called Brent, who knows everything. He said that he used the new Canopus DVStorm2 hardware and software to do the AVI to MPEG compression, and it does it almost real time, meaning an hour of AVI is converted to MPEG in about an hour. Whew! That saves a lot of time. Plus the rendering of the titles and transitions are instantaneous, there is no waiting for your hard drive to crawl along while rendering. Yeah baby! But you pay a price for that time you save.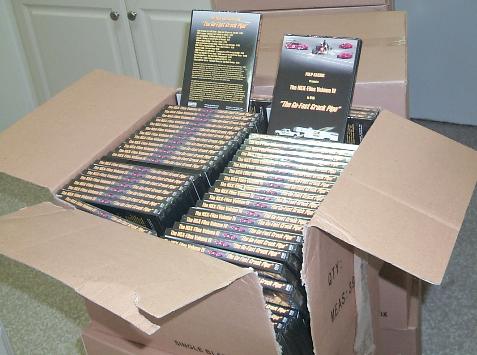 Full color labels, shrink wrapped, ready to go!
So I bought the Canopus DVStorm2 bundle, converted the AVI clips to MPEG, but then discovered that my Pioneer A04 didn't come with DVD burning software. Either that, or I lost it. So then I tried to burn the newly created MPEG files to DVD using Pinnacle Studio 8. But then the final output looked crappy on a big screen TV, almost choppy, like a bad VHS tape. Another call to Brent, and he says that I should probably change my DVD burning software to DVDit, which you can purchase on the web. Holy shits, you thought the Behemoth from Redmond charged a lot for software? Try $600 bucks for DVDit Professional Edition so I can burn a DVD with menus. Ouch.
So then I burned a DVD-R, and it looks great! Then I burned 10 more revisions to get things to "flow better" and get the bugs out, and finally I was ready to get the DVD mastered. The result is this: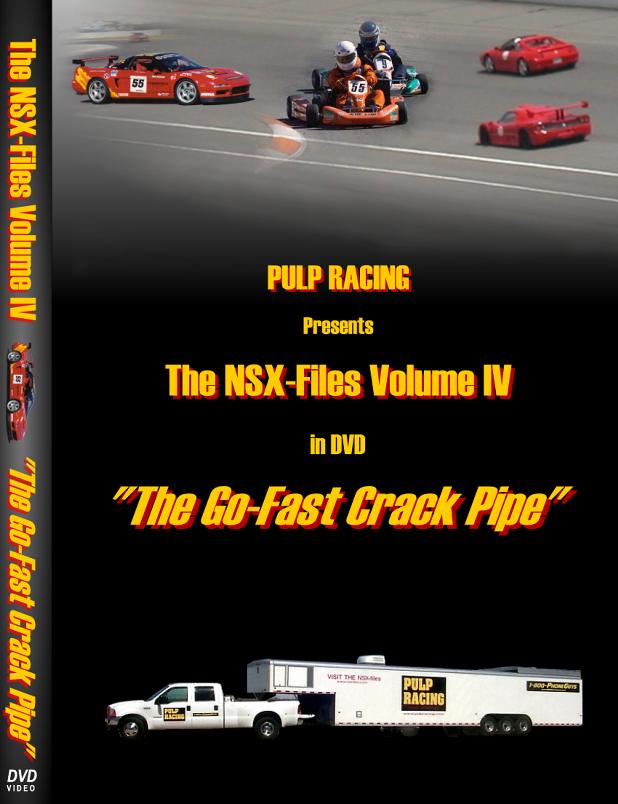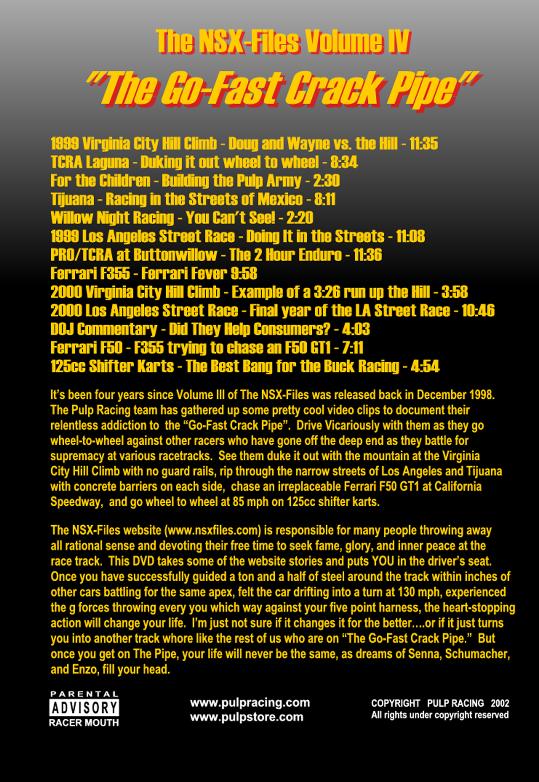 The duplication house is starting to press the DVDs now (in DVD5 format, so it should run in all DVD players), so I should have them ready to ship out after Christmas. I tried to make it for a pre-Christmas release, but I couldn't hit the deadline. Anyways, the price is $15 + shipping and handling, and applicable taxes. Go to www.pulpstore.com to order it online. The first batch went out January 6th. You can pre-order a DVD now, and send a Christmas Card to a friend promising the DVD is on the way using this Microsoft Word Document or this Acrobat Document.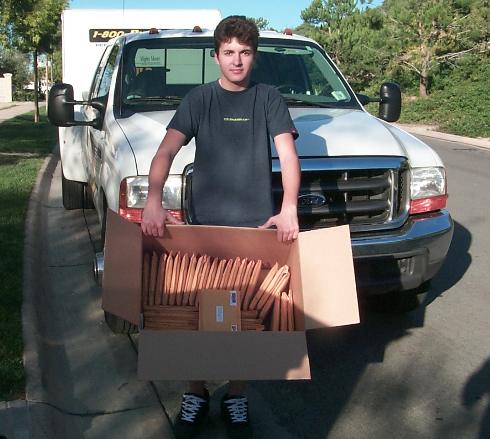 Production Manager, Dana Mello, posing with his initial shipment of DVDs
The scenes in the DVD include:
Yeah, I know. Lots of people are selling DVDs of their "Racing Adventures". The problem is that most of those DVDs suck, especially those "Street Racing" DVDs. You know where those Street Racers belong on the Pyramid of Speed. This DVD is unique because it gives you a glimpse of what happens when a couple of guys get addicted to the "Go-Fast Crack Pipe", and take their act wheel-to-wheel racing using an Acura NSX, Porsche 944 Turbo, and Tony shifter karts. Get a glimpse of what happens when you get "Ferrari Fever". Are you man enough to compete in the Virginia City Hill Climb, where there are 400 foot cliffs with no guard rails?
Some of the scenes in this DVD include:
1. In car footage of a Comptech Supercharged Acura NSX at the Virginia City Hill Climb.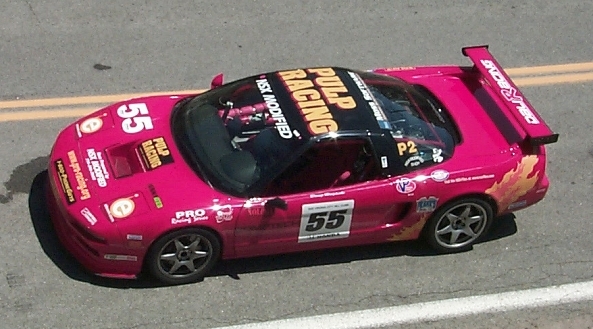 See this car kick ass at the 1999 Virginia City Hill Climb

2. In car footage of a Comptech Supercharged Acura NSX racing wheel-to-wheel at the 1999 and 2000 Los Angeles Street Race.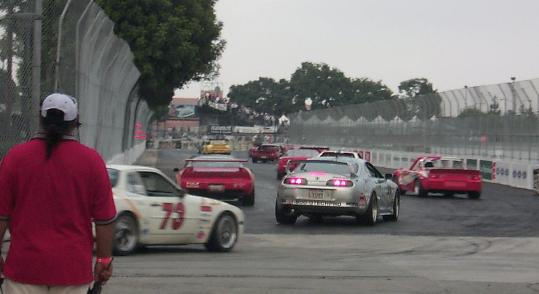 Duke it out wheel-to-wheel at the LA Street Race
3. In car footage of a Ferrari F355 GTS F1 following the mythical Ferrari F50 GT1 LM at the Ferrari Club of America track event at California Speedway.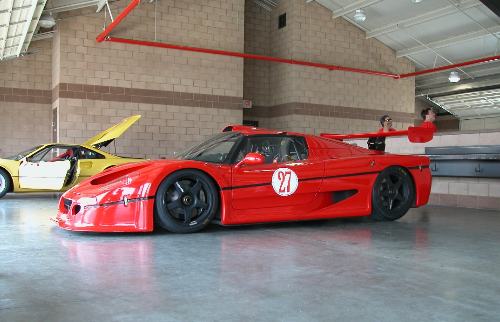 The most awesome track vehicle in the world?
4. Helmet camera footage of 125cc Tony shifter karts racing wheel-to-wheel at 85+ mph at the Las Vegas Karting Track.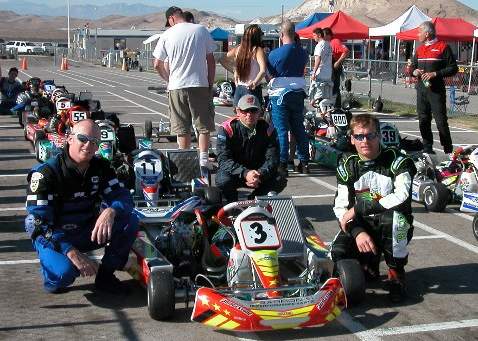 Wayne and Gene kneeling next to Alex Barron. Who will win?
Also, to help celebrate the release of the DVD, we need to have a contest.
Pulp Racing Logo Contest
Contest Winners Will Be Announced January 30, 2003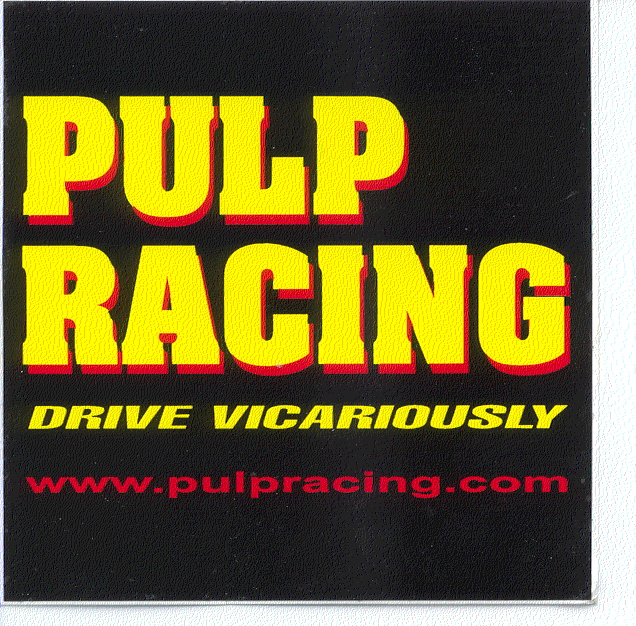 Strategically place this logo somewhere interesting. Win Cash!
In the meantime, I thought for grins, I would put up a contest. Here's the scoop on the contest:
1. Strategically place the above logo (must be exact copy of logo, with the four lines of text on it) in an "interesting" spot. No porno pictures allowed (well, at least for the contest).
2. Snap TWO pictures and send the pictures to me.
a. One picture must be of the logo in the "interesting place"
b. The second picture must be of YOU putting the logo in the "interesting place". The picture of you here makes it more difficult for someone to just "PhotoShop" a logo in an "interesting place".
Send the pictures to me. You can email them to me, or send them in the mail to 33 Skyridge, Newport Coast, CA 92657.
Some examples of "interesting places" to stick the logo would be:
a. Sidewinder Missile
b. F16 Fighter Plane
c. Car entered in the 24 Hours of Le Mans
d. Right buttock of Heather Locklear's pants (with her in the pants)
e. Torch on the Statue of Liberty
f. Ferrari F60
g. Podium at a presidential press conference
You get the idea. Do something creative!
Prizes will be awarded as follows:
1. First place - $250 cash
2. Second place - $100 cash
3. Third place - $50 cash
Of course, you will go down in history and become famous for being a podium winner for this contest, as I am getting about 2000 hits a week on the site.
You can either print out the logo above on a color printer (should be 4 inches by 4 inches) and use some clear tape or glue, or you can buy a sticker from me for $4.00 at the Pulp Store. Stick it somewhere good!
Judging will be by Doug and Wayne. In case of ties, Dagmar will cast the tie breaking vote.
Let the contest begin!!